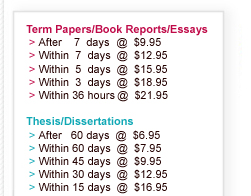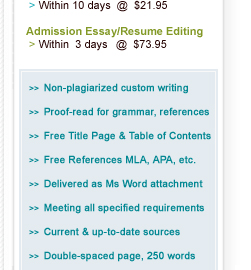 Please read Frequently Asked
Questions for more information

All major cards accepted

0| Identity Statement:
Our name does not suggest a slogan but a guarantee of service. Be assured that the process of custom-writing is by no means an easy task. The art of striging together words to make it sound big is easy, but writing a paper for serious customers with quality in mind requires a lot of skill and experience. Our writers are one of the oldest in the trade, ready to assist you with their expertise around the clock.

0| About our Team:
As a strong hierarchy of experienced content/custom writers, we have been providing research, custom-writing, proof-reading & editing services for more than a decade.

Our team of writers hails from diverse yet excellent scholastic institutions and has the proficiency to write on any and all topics. We are dedicated and focused solely on our customer and his/her requirements and this is reflected in the support provided to every query within an hour.

Teamwork coupled with experienced and dedicated staff allows us to work in a methodical manner improving efficiency and allowing us to achieve Total Quality Management. Basically, every member at www.FlashPapers.com strives for the common goal of making us the industry market leader.


0| About our Ethics and Beliefs:
At www.FlashPapers.com we believe in ethical behavior in all walks of life. As we are in the writing business, we stand strictly against plagiarism. Our custom-written model papers are strictly written from scratch. Further to fight plagiarism a paper is re-written at many stages by different writers. As a gesture of good faith, we offer the value added service of a third-party review of content and paper quality every time you order.

How it Works!



It is no easy task providing these papers at the extremely urgent deadlines offered however with years of experience and highly capable writers we are available to provide pure custom-writing to every individual customer. To assure optimum accuracy, your paper goes thoroughly through the following steps before final delivery to your e-mail inbox:

Initial drafting/pre-writing of introduction/hypothesis
This step involves jotting down ideas following the basic Topic Suggestion and Details of your order. The secret to creating a workable draft which can later be converted to excellent paper is the organizing of ideas to follow a structured train of thought.

Research & Formatting along prescribed requirements
A team of researchers pore over our huge in-house library and various other paid e-resources transcribing any/all information relating to your requirements. This data is then converted to relevant information by cross-checking resources and forming classifications. We now have the basic body of the paper on which work is then started by our expert writers.

Final Drafting

Research material compiled by the researchers is then forwarded to a writer with relevant interests and experience for final compilation. All writers follow the topic requirements set by the customer and the general guidelines mandatory for writing your paper. Please note all resources used are mentioned in the references section of the paper.

Editing and Proofreading
An extremely important stage of writing as it involves re-reading a paper by a person, not necessarily writer, who will go through the entire work word by word. Our proof-readers possess a critical eye for in-text referencing formats. Editors then set right if/any blemishes in the general body of the text, thereby creating sound and factual papers.

As a value added service, we use state of the art editorial and plagiarism checking tools available online, and we offer them free of charge, to ensure you always receive a quality paper. You are provided a third party review with every paper you order. You can also avail this service to proof-read and edit your paper following your writing style.

Delivery
Finally, a proof-read, third party certified, sound and factual paper is e-mailed to your inbox within the specified deadline. You may request your paper in Ms Word or Adobe .Pdf formats. For more information goto: products and services